Device Doctor – Automatically Updates Hardware Drivers
Tuesday, April 13, 2010 20:51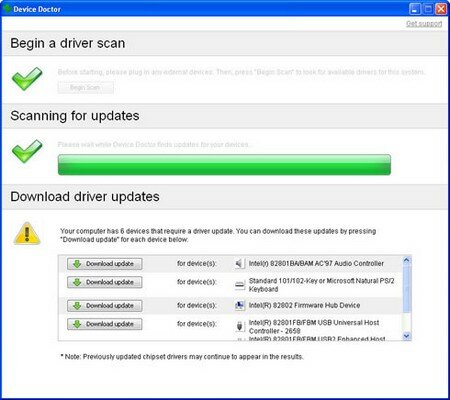 Device Doctor is a freeware Windows application that scans your computer hardware and checks to see if there are new driver updates available for your devices.
Device Doctor can also locate drivers for hardware that appears as Unidentified Devices in the Windows Device Manager. This tool was designed to be very simple and easy to use.
Here are some key features of "Device Doctor":
· Device Driver Database – Provides drivers for most computer hardware and device manufacturers. More than 3 terabytes (3,000 GB) of drivers currently in the database. We cache all drivers so downloads are quick and work every time
· Fast hardware scan takes mere seconds
· Consistent Updating – Constantly updated to include new driver versions as soon as released
· Every driver is human reviewed using specialized compatibility tools
· Learns from other users as it recommends better drivers every day
· Provides device names for unknown devices before updating drivers
· Can be used offline: scan results are saved so you can move them to a connected computer and download there
· Updates WHQL (Microsoft certified) and non-WHQL drivers
You can follow any responses to this entry through the
RSS 2.0
feed.
9 Responses to "Device Doctor – Automatically Updates Hardware Drivers"

Leave a Comment