FavBackup – Easily Backup Data Related To Your Browser
Thursday, July 16, 2009 22:58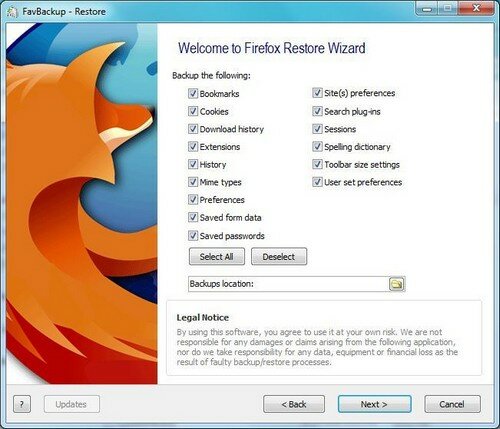 FavBackup is a simple solution for you to backup and restore web browser settings and other data. Simply select your browser and the action you want to perform.
Using the utility is simple—just launch the no-install-required executable and go run through the wizard to backup or restore your browser profiles. The software handles backing up Google Chrome, Internet Explorer, Firefox, Safari, and even Opera—there are still a few restore glitches with IE and Opera, but it's a useful utility worth a look for anybody looking to transfer settings from one machine to another.
Supported Browsers
Internet Explorer 8
Internet Explorer 7
Internet Explorer 6
Firefox 3.5
Firefox 3
Firefox 2
Google Chrome 3
Google Chrome 2
Google Chrome 1
Requirements:
· 133 MHz processor
· 32 MB of RAM
· 4 MB disk space
You can follow any responses to this entry through the
RSS 2.0
feed.
7 Responses to "FavBackup – Easily Backup Data Related To Your Browser"

Leave a Comment