Home » Free Software Download
Better Windows task management with MKN TaskExplorer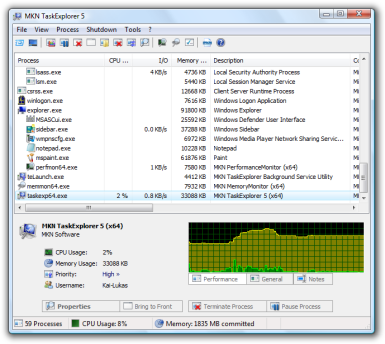 Windows' built in Task Manager is good enough to get by, but it's not really changed much since NT. If you're looking for a better alternative, MKN TaskExplorer is an option worth downloading.
The program window's default view provides a good amount of information without being overwhelming. Double clicking any task brings up a detailed view of its activity including CPU, memory, disk, and network utilization, handle, thread, and file information, and more.
Want to replace Task Manager with TaskExplorer? Hit the tools menu, click options, and check the box. It works like a charm, and launches just as quickly.
In addition to being able to terminate or pause, there's also an option to "page out" a selected process, forcing it out of physical memory. While there might not be many situations where this is necessary, it's still an interesting option to have at your disposal.
You can also launch standalone memory and performance monitors from Task Explorer. Both provide graphical and numerical information about your computer's activity. The Memory Monitor can perform automatic memory optimizations as well, either when your PC is idle or when the amount of free memory falls below a certain percentage. It works fairly well, and didn't destabilize my Windows XP Pro machine during testing.
TaskExplorer is freeware for Windows only.
Original Post: http://www.downloadsquad.com/2008/10/17/better-windows-task-management-with-mkn-taskexplorer/