Home » Free Software Download
HDD Health – A full-featured hard drive failure-prediction agent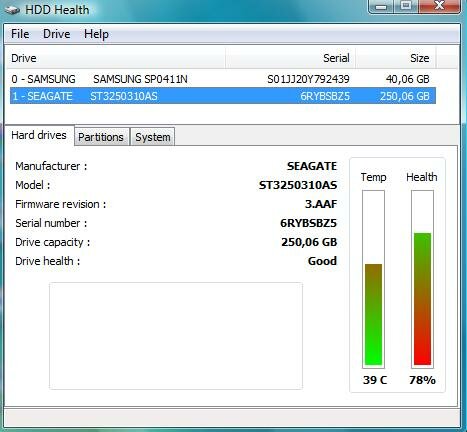 HDD Health is a full-featured failure-prediction application for computers running Windows.Sitting in the system tray, it monitors hard disks and alerts you to impending failure.
HDD Health uses Self Monitoring and Reporting Technology (S.M.A.R.T.) built into all new hard disks, and can predict failures on your hard drives.
A host of alerting features include email, local pop-up messages, net messages, and event logging, while using no system resources.
HDD Health monitors attribute changes, analyzes speed of falling (lowering), and calculates remaining time of life HDD based on this data.
Furthermore, HDD Health shows other useful information about your HDD – supported standards, speed modes of operation, current mode of operation (PIO, DMA, UDMA…), and others. Detailed info about these modes can be found under "HDD technology".
Requirements:
· 32 MB RAM
· 1 MB on HDD