Home » Free Software Download
Smart PC Locker Pro – Lock your computer and move away safely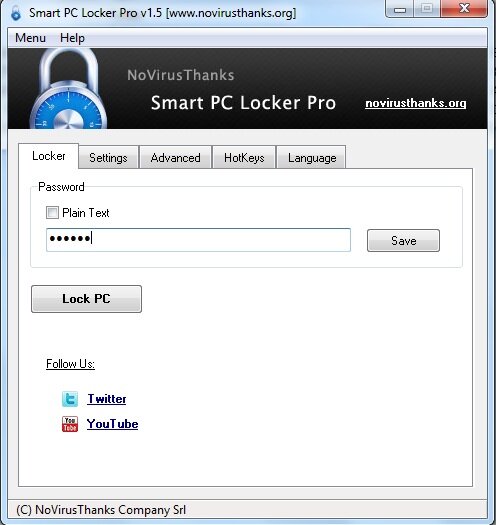 Smart PC Locker is a lightweight and powerful application designed to lock your computer and all its functions so that no one can access your personal data, you can now move away from the PC safely. The program locks the entire system and it disables the task manager and all CD-ROM drives, so that a possible intruder can not bypass our tool with autorun.inf of CD-ROMs or USBs.
There is a Stealth Mode that allows user to hide the Smart PC Locker trayicon and form window from unknown eyes, it can be restored with an easy to use hotkey. The usage of Smart PC Locker is also extremely easy, just one single mouse click allows you to immediately lock the system. Is also possible to automatically lock the system when in idle mode.
Smart PC Locker Pro is compatible with the following 32-bit and 64-bit Microsoft Windows Operating Systems: Windows 2000, Windows XP, Windows Server 2003, Windows Vista, Windows Server 2008, Windows 7.
Here are some key features of "Smart PC Locker Pro":
· Auto lock PC after X minutes of inactivity
· Disable Task Manager
· Lock all CD-ROM drives
· Lock your Computer
· Power off monitor once locked after X minutes of inactivity
· Set your own password to unlock the PC
· Shutdown Windows after the PC is locked for X minutes
· Shutdown Windows after X invalid password attempts
· Start with Windows and lock screen
· Stealth Mode
· Use custom wallpaper when lock Computer
· Very user-friendly GUI