Home » Free Software Download
Windows Live Photo Gallery 2011 – Organize, Edit or Apply Special Effects for Photos and Videos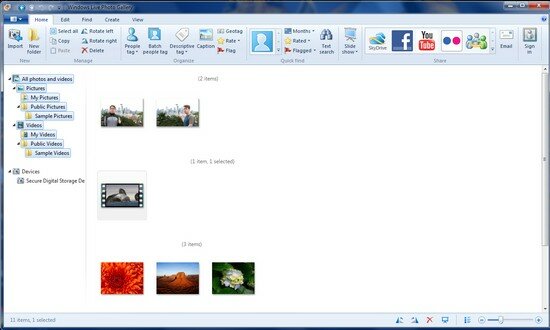 Windows Live Photo Gallery will allow users to import photos from your camera, organize them into albums, and edit them so they look their best. Use powerful photo tools to create stunning panoramas, movies, slide shows, and more. When you're ready to share, publish your photos and videos to your favorite websites like Facebook and Flickr directly from Photo Gallery.
Importing photos
Import photos and videos from your camera or mobile phone and into Photo Gallery in just a few short clicks. Photo Gallery works seamlessly with Windows 7 photo and video libraries so the albums you've already created will be ready for you in Photo Gallery.
Find your photos and videos
Photo Gallery makes searching for—and finding—the photos and videos you're looking for easier than ever. Photo Gallery now has face recognition and batch tagging to make it easy to find and organize your photos.
Organize, edit, and share photos
Make your photos really stand out with powerful and easy-to-use editing tools. Automatically edit dozens of photos simultaneously or fine-tune photos individually.
Here are some key features of "Windows Live Photo Gallery 2011″:
Share photos and videos online:
· Save time by publishing photos and videos directly from Photo Gallery to your favorite social networking sites like SkyDrive, Flickr, Facebook, and YouTube.
Find the photos you're looking for:
· With new search features and tools like face recognition, finding photos in your collection is easier than ever.
Make photos look great:
· Make your photos really stand out with powerful and easy-to-use editing tools that you can use to edit dozens of photos simultaneously. Clean up photos, remove blemishes, fix red eye, and more.
Requirements:
· Processor: 1.6 GHz or higher
· Memory: 1 GB of RAM or higher
· Resolution: Minimum: 1024 × 576
· Internet connection: Internet functionality requires dial-up or broadband Internet access (provided separately). Local or long-distance charges may apply. High-speed Internet access is recommended for some features.
· Graphics or video card: Windows Live Movie Maker requires a video card that supports DirectX 9 or higher and Shader Model 2 or higher.
. Windows Vista SP2 or Higher