Firefox 12 Released
Friday, April 27, 2012 15:22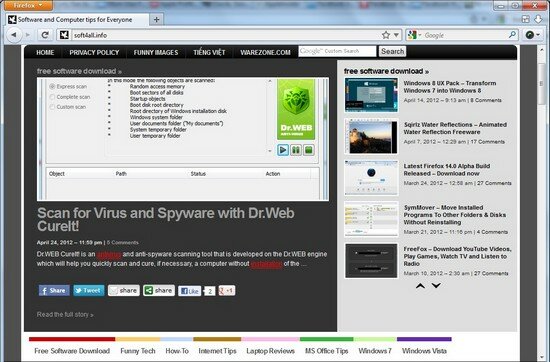 Mozilla has let loose the latest update for the popular Firefox web browser.
Firefox 12 offers a number of bug fixes and features, notably the suppression of the user account control dialog (UAC) pop-up.
Alongside the UAC change, the new version includes many security fixes and packs a number of developer tool improvements. Web Console, Scratchpad, Style Editor, Page Inspector, 3D Page Inspector and more.
Here's an overview of the new in Firefox 12 below:
New – Windows: Firefox is now easier to update with one less prompt (User Account Control)
New – Page Source now has line numbers
Changed – Line breaks are now supported in the title attribute
Changed – Improvements to "Find in Page" to center search result
Changed – URLs pasted into the download manager window are now automatically downloaded
Developer – Support for the text-align-last CSS property has been added
Developer – Experimental support for ECMAScript 6 Map and Set objects has been implemented
Fixed – Various security fixes
Fixed – Some TinyMCE-based editors failed to load (739141)
Fixed – OS X: WebGL performance may be degraded on some hardware (713305)
You can follow any responses to this entry through the
RSS 2.0
feed.
One Response to "Firefox 12 Released"
Leave a Comment