Spyware Terminator – An easy-to-use and effective spyware remover, providing real-time protection against spyware
Thursday, March 12, 2009 14:09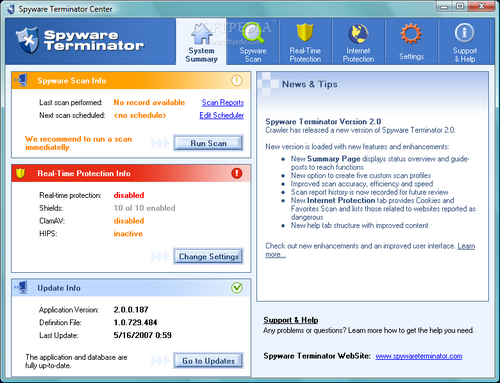 Spyware Terminator is a FREE, easy-to-use and effective spyware remover providing real-time protection against spyware, adware, keyloggers, trojan horses, browser hijackers and other malware threats.
Spyware Terminator protects your computer through powerful real-time protection shield, advanced system scanning and keeping found spyware in the safe quarantine.
Spyware Terminator monitors your computer for both known and unknown spyware. The known spyware can be detected and identified during the scan, the unknown spyware can be detected but it cannot be identified immediately. After you send it to Crawler Spyware Central for further analysis, it can be identified and correctly removed or moved to Quarantine.
Spyware Terminator scans your entire system using a regularly updated database of known spyware. Due to the constantly changing environment, the spyware database is updated regularly at Crawler Spyware Central to provide you with continuous protection.
Spyware scanning is used on a manual basis (on-demand scanning) as well as on a scheduled basis using the spyware scheduler to perform full system scans to locate and remove unwanted spyware threats. Spyware scans perform in-depth scans of your computer's hard drives, memory, process, and registry to seek out and remove any and all known and unknown spyware threats.
Here are some key features of "Spyware Terminator":
· Effective spyware protection
· Real-time shield protection
· Integrated antivirus protection
· Expanded database updated daily
· Ability to fully customize scans
· Host Intrusion Prevention System (HIPS)
· Easy to use and to setup
You can follow any responses to this entry through the
RSS 2.0
feed.
10 Responses to "Spyware Terminator – An easy-to-use and effective spyware remover, providing real-time protection against spyware"

Leave a Comment