Home » Free Software Download
Autorun Protector – protecting your removable device from being infected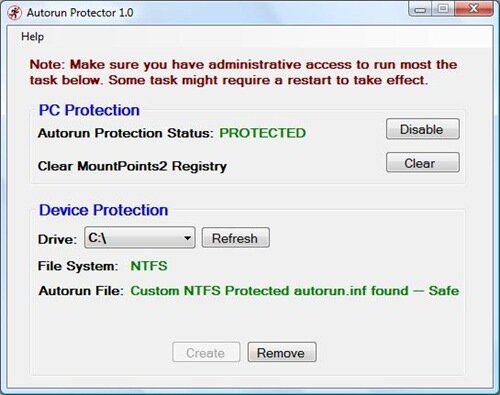 Autorun Protector is an application created to help you prevent your PC from infecting with autorun worms and also protecting your removable device from being infected from other sources.
In addition, it also come with additional features like custom protected autorun.inf file, removing of autorun.inf & resolving drive opening issue.
By enabling this protection, your computer will treat autorun.inf as if it does not exist. So far I think this method is the best for disabling autorun worms from infecting into your PC.
Note:
This program does not help you to clean all type of autorun worms. It is to protect your PC & Device from infecting the worms. If your PC is already infected with autorun worms, I suggest you to clean the worm first by using anti-virus program or do a clean reinstallation of operating system.
Make sure you have administrative access to run most of the task below. Some task might require a restart to take effect.
Requirements: