Home » Free Software Download
AVG Internet Security 9.0 – Complete Security Protection for Your PC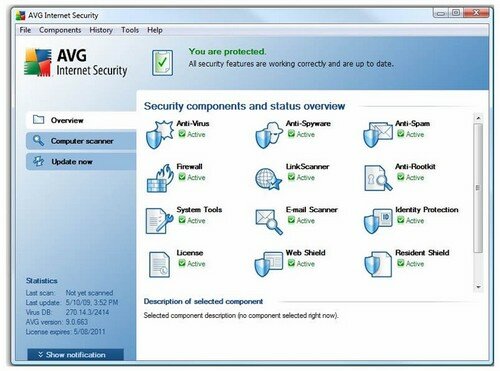 Download 30-day Free Trial

AVG Internet Security 9.0 combines all the modern detection technologies in one integrated security solution: signature, heuristic, behavioral, in-the-cloud, and white listing. This combination of approaches delivers a comprehensive security package.
FASTER – Scanning times can be a key requirement for customers. AVG Internet Security 9.0 utilizes a methodology that marks files as safe or potentially unsafe and then doesn't scan the safe files again until the file structure changes. This reduces scanning times by up to 50 percent.
SAFER – We have increased the degree of integration between the Resident Shield, firewall, and Identity Protection modules, allowing them share malware information with one other. This results in increased detection.
We listened to our customers and reviewers comments about our firewall. It's been redesigned to be less intrusive. It works more tightly with Internet Security's other components. There is no sacrifice in speed. Our new Trusted/Unsafe Database allows us to make more decisions for the user without their input. This makes the application quieter, safer, and more accurate.
We've enhanced the real-time safe surfing capabilities of AVG LinkScanner and its heuristic capabilities. It applies more than 100 different threat indicators to a web page. If the results are inconclusive, it makes a call into the cloud and our research network to make a final call. 60% of transient threats exist on a site for less than a day. The AVG LinkScanner component is designed to stop them.
EASIER TO USE – The number of screens required to install the product has been reduced by about half. The user interface has been redesigned. Internet Security 9.0 will detect a significant number of security solutions that could be on the system. We're partnering with OPSWAT to provide our customers their AppRemover utility. This will make it easier for them to completely uninstall other security software that may cause conflicts with our solution.
FOR GAMERS – Internet Security 9.0 offers Gamer Mode. This allows the Gamer to enjoy online games without sacrificing security. Gamers won't be interrupted by a "Firewall Ask Dialog", for example, should an unknown application attempt to establish an Internet connection. The end result is a more enjoyable gaming experience.
AVG IDENTITY THEFT RECOVERY UNIT – FREE SUPPORT IF THE UNTHINKABLE HAPPENS (US only) - Identity theft can happen when someone is online or off. We want to ensure home users solid assistance if the unthinkable occurs. We're partnering with Intersections, Inc. a leading identity theft protection service, to offer AVG Identity Theft Recovery Unit. Users who become a victim of identity theft will be able access to a dedicated team of fraud experts. Their sole purpose is to help sort out all the problems they may encounter while they put their life back in order.
AVG Internet Security 9.0 is faster, safer, and easier to use. It includes theft recovery assistance. How could your readers not be interested? We have a brief Reviewer's Guide that will help you quickly understand and examine what the product offers. I can help fast track any additional questions you have or should you need support.
Here are some key features of "AVG Internet Security":
· Antivirus and Anti-Spyware: protection against viruses, worms, spyware, and trojans
· Identity Protection: helps prevent identity theft
· Anti-Rootkit: protection against hidden threats (rootkits)
· Web Shield: screens downloads and IM for infections
· LinkScanner: blocks poisoned web pages in real time
· Anti-Spam with anti-phishing: filters out unwanted and fraudulent e-mails
· Firewall: blocks hacker attacks
· System Tools: tailor AVG for your particular needs
· 100% virus detection – AVG's scanning engine has received numerous awards for its excellent detection of "in the wild" viruses, including the VB100% award. Its unique combination of detection methods provides full protection against viruses, worms and trojans.
· Cutting-edge anti-spyware technology – Using the latest state-of-the-art detection technology, AVG detects spyware, adware, DLL-trojans, keyloggers, and much more. Malware hidden in data streams, archives, or the Windows registry is also detected.
· Full on-access protection – The powerful AVG Resident Shield provides maximum protection by scanning every file opened, executed, or saved. It also prevents the opening or executing of infected files.
· Flexible intelligent scanning – The AVG Resident Shield can include/exclude files from being scanned based on individual file extensions and can handle exceptions for potentially unwanted programs such as adware.
· Full e-mail protection – AVG checks every e-mail sent or received, providing full protection from e-mail-borne threats. AVG supports all leading e-mail clients, including MS Outlook, The bat!, Eudora, and all other SMTP/POP3-based e-mail clients, such as Outlook Express. Encrypted connections using SSL are also supported.
· E-mail spam and phishing filtering – AVG checks every e-mail received, using the latest technology and up-to-the-minute spam signatures to ensure maximum detection rates for spam and phishing attacks.
· Automatic threat handling – AVG can automatically heal or remove infected files and other threats such as trojans, worms and spyware.
· Control over all network access – The AVG Firewall monitors all communication to and from the computer, blocking external attacks and preventing trojans from exporting confidential data. The AVG Firewall configuration wizard automatically creates access rules for all popular software. In addition the firewall can switch profiles automatically, based upon the current conection type, ensuring seamless changeover for notebooks.
· Powerful scheduling – AVG automatically provides recommended daily schedules for scanning and updating, and also allows you to create custom-scheduled events.
· Multiple language support – No need to buy a special language
Requirements:
· Intel Pentium CPU 1,2 GHz
· 250 MB of free hard drive space (for installation purposes)
· 256 MB of RAM memory
Limitations:
· 30-day trial period