Home » Free Software Download
BitDefender Internet Security 2011 – Complete Protection from Internet Threats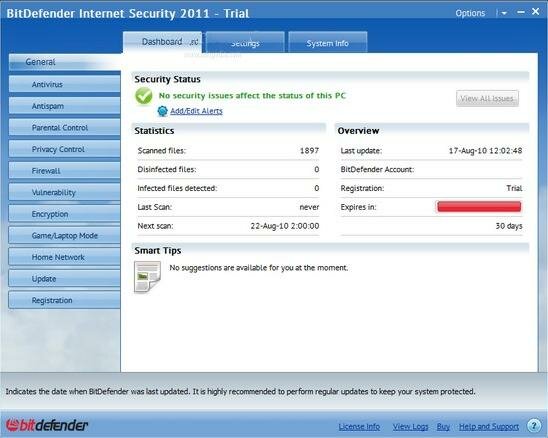 32-bit Version

The BitDefender Internet Security 2011 product offers Internet-connected families the latest protection against Web-based attacks, faster performance for secure online gaming and unrivaled parental controls.
Here are some key features of "BitDefender Internet Security 2011″:
Stop Viruses and Spyware Cold:
· Proactive protection stops new viruses and malware that other products miss.
Choosee Your View:
· Match the interface to your level of comfort by selecting between Basic, Intermediate, or Expert settings—and quickly create shortcuts to frequently used controls.
Safeguard Your Privacy:
· Eliminate the chances your data and conversations are leaked to others over email, Facebook, IM, or websites that track your online activities.
Manage Your Home Network:
· Control the security of your entire network from a single location.
Firewall Protection:
· Establish a two-way firewall with just a few clicks, to continuously monitor your Internet connections and prevent unauthorized access—even over a Wi-Fi network.
Keep Your Family Safe:
· With parental controls you'll receive reports, by browser, email, or cell phone, on recent online activity for each child's computer in your home network.
Eliminate Spam:
· Send unwanted or malicious email and attachments straight to the trash, so they never reach your Inbox.
Play and Work Seamlessly:
· Automatically activate Game, Laptop, or Silent Mode to minimize interruptions, prolong battery life, or reduce system load to ensure seamless and secure gameplay.
Video Library:
· A new collection of step-by-step videos helps you navigate through common security challenges.
Requirements:
· Available free hard disk space: 600 MB free space
· Intel CORE Duo (1.66 GHz) or equivalent processor
· RAM: 1GB (Windows XP and Windows 7), 1.5 GB (Windows Vista)
· 600 MB available hard disk space
· Internet Explorer 7
Limitations:
· 30 days trial