Home » Free Software Download
BitDefender Security Scan – The Tool You Need to Stay Safe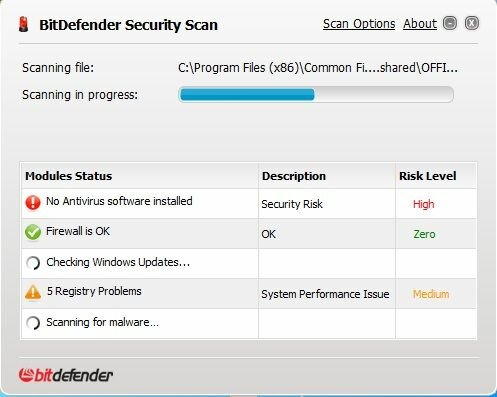 BitDefender Security Scan is a handy and reliable utility designed to provide information on the speed, stability and security issues which may affect your system.
Informative – BitDefender Security Scan presents information about your machine in a way that makes it easier for you to take appropriate action.
Convenient – BitDefender Security Scan is built to supplement your current security setup – there will be no unwanted interactions between it and any security software you may have installed.
Fast – Simply download and run a security scan – you'll have the information you need in minutes!
Note: In order to fix the registry issues, you will need to buy BitDefender Total Security from the page you will be redirected to once you press the "Fix" button.
Here are some key features of "BitDefender Security Scan":
· AV QuickScan – scans your PC for running viruses, spyware and other online threats – usually in less than a minute!
· Registry Tuning – scans your PC for invalid registry entries that can cause slow downs, freezes or crashes.
· Update watcher – checks for Windows updates which have not been applied yet.
· Security status – checks for the existence and status of security software on your system.
· Scheduled Scanning – sets up recurring scans to ensure your system is safe. QuickScan will automatically scan your PC on startup.
· Antivirus Spot Check – on demand, instantly scans a suspicious file (such as something you've just downloaded) for viruses.
Requirements:
· Memory: 512 MB (for Win XP) and 1GB (for Vista and Win 7)