Home » Free Software Download
Comodo Internet Security – The Best Firewall Protection and AntiVirus softwar from Comodo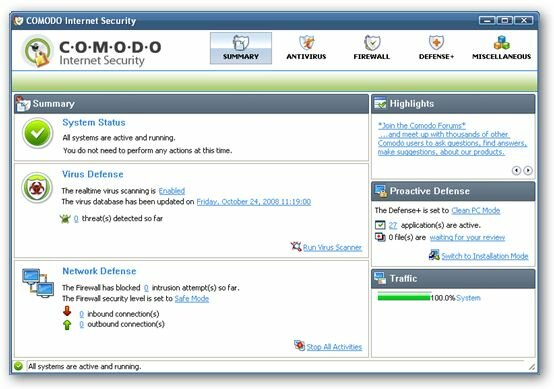 Windows 32-bit version



Windows 64 bit version


Comodo Internet Security (CIS) combines Comodo's sturdy firewall and state-of-the-art antivirus protection in one suite. Defends your PC against 1 billion executables including viruses, root kits, Trojans, and zero-day attacks. And even with all these great features, CIS is free.
Comodo has merged its antivirus program with Firewall Pro, creating a free security program that aims to be more to more people. Although this may frustrate some users who want only one program or the other, the installer does let you opt out of either of the components. Users are also asked to install the Comodo SafeSearch and Ask.com toolbars, so be careful if you tend to install on autopilot. CIS requires a reboot.
Resource management is better than before, with hogging all but eliminated. It provides a smorgasbord of information and options for advanced users, but it's simple enough for beginners, and runs smoothly and silently in the background. The version 3 interface utilizes a plain white color scheme and replaces old terminology with more intuitive terms such as Summary, Firewall, Defense, and Miscellaneous. In each, there are links to relevant security issues so users can drill down to learn more about how the firewall is performing. The firewall rears its head most often when Security Alerts ask about new Internet connections as the program "learns" your computer's behavior.
Shield-shaped buttons at the top facilitate switching between the antivirus and firewall modules, as well as a summary tab that provides a general overview. Users can toggle automatic scans of archives or downloads, scans on start-up, manage the quarantine, and schedule scans and definition file updates through a clean and comprehensible list of links. The definition file update crashed during its first use, but was stable thereafter. Scans completed at a reasonable speed, but were not blazingly fast.
A third pane, Defense+, provides more-advanced security options including locking down specific files from modification, perusing an active processes list, and protecting specific Registry keys. Comodo Internet Security's wide range of free services are generally good, but the firewall is clearly the strongest of the bunch.