Home » Free Software Download
CryptArchiver Lite – Encryption and Privacy Software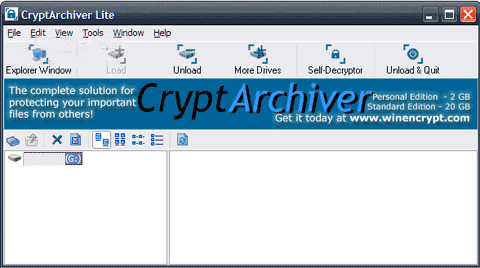 It's really easy to hide, encrypt and password protect data with CryptArchiver.
All you do is drag-and-drop your important files and folders into an encrypted drive – just like an ordinary drive!
CryptArchiver Lite is encryption software for the desktop. It creates a special Encrypted Drive that can only be accessed with a password. Files stored in this drive are automatically encrypted on-the-fly. Once loaded, the encrypted drive is like any other drive.
When you unload the encrypted drive, it disappears from Windows! No one can access your data without the password. Load the Encrypted Drive again with the password, to access your files.
Use CryptArchiver Lite to secure your important files – It's absolutely free, and it never expires…
You can protect all types of files – be it email, databases, spreadsheets, text, graphics, audio or even video. You can even make encrypted backups of your files easily on your hard drive, or on external drives like CDs, DVDs, or USB devices. What's more, you can even install and run programs that are accessible and visible only to you!
CryptArchiver does not merely "hide" your files, it encrypts them. It protects your data with strong 448 bit Blowfish and 256 bit AES algorithms, making it statistically impossible for anyone to break into. With CryptArchiver's strong security, you can rest assured that your files are accessible only to you.