Home » Free Software Download
Defraggler – File and Disk Defragmentation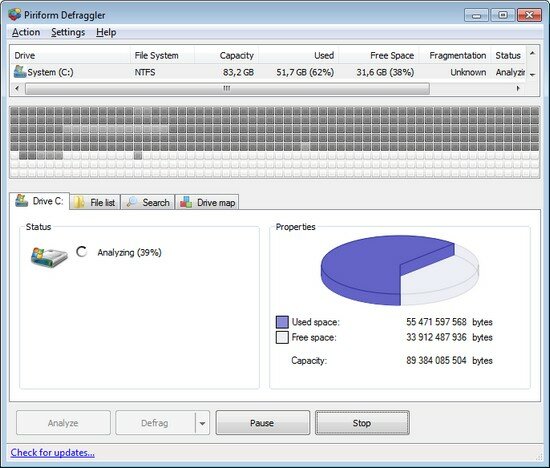 Installer Version

Portable Version

Defraggler is a small utility for computers running Microsoft Windows that lets you defrag hard drives on your system. While Windows comes with a defragmenting utility, Defraggler has several unique features that Windows Defragmenter and third-party defragmenting software can't beat.
Defraggler is a quick, safe way to speed up your PC. Defraggler speeds up your computer by placing all the parts of a file on the same section of the hard drive. When Windows goes to access that file, it only has to look in one area of the drive, which speeds things up.
Defraggler also attempts to move all of your files to the start of the hard drive, which makes them faster to access.
Defraggler differs from other defrag tools on the market, by enabling you to quickly and simply defrag the files you want to, without having to process the whole drive. Simply launch Defraggler, select the file or folder and defragment it in just a few seconds. No more struggling with the Windows defragmentation tool!
Features
Defragment exactly what you want
Most defrag tools only allow you to defrag an entire drive. Defraggler lets you specify one or more files, folders, or the whole drive to defragment.
Safe and Secure
When Defraggler reads or writes a file, it uses the exact same techniques that Windows uses. Using Defraggler is just as safe for your files as using Windows.
Compact and portable
Defraggler's tough on your files – and light on your system.
Interactive drive map
At a glance, you can see how fragmented your hard drive is. Defraggler's drive map shows you blocks that are empty, not fragmented, or needing defragmentation.
Quick Defrag
Give your hard drive a quick touch-up with Quick Defrag.
Defragment free space
Organizes empty disk space to further prevent fragmentation.
Scheduled defragmentation
Defragment while you sleep – and wake up with a faster PC. Set Defraggler to run daily, weekly or monthly.
Multi-lingual support
No matter what your native tongue is, Defraggler speaks your language. It currently supports 37 languages.