Home » Free Software Download
Download Accelerator Plus – Accelerates downloads for all Internet connections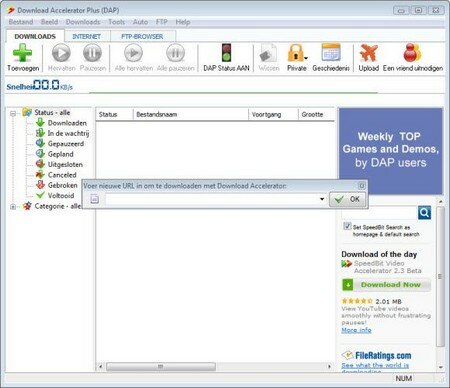 Download Accelerator Plus (DAP) is the leading download manager with over 160 million registered users worldwide. DAP leverages patented technology, ease of use and rich features including: multi-connections for the fastest downloads from most responsive servers, auto-recovery from lost connections and errors, Always Resume feature (where server-resume is not supported), scheduling, file management tools, privacy and security features, and much more.
DAP integrates with Internet Explorer, Firefox, Netscape and is compatible with Windows Vista. DAP is available in 10 languages including German, Dutch, French, Chinese (traditional), Spanish, Portuguese, Japanese, Russian and Italian.
New features in DAP 8.7 includes an upgraded download window for faster downloads with ease and simplicity, improved management window, the ability to upload and send large files and the SpeedBit Video Accelerator expansions to reduce buffering problems and video "hiccups" from over 100 video sites!
Download Accelerator Plus (DAP) will accelerate the speed with which you can receive files over the Internet using FTP and HTTP protocols by simultaneously downloading several file segments from the same or different servers.
Download Accelerator Plus enables you to pause and resume downloads, and to recover from a dropped Internet connection.
In addition, DAP searches for mirrors and implements the downloads from the best or most responsive mirrors. It is configured by default to automatically Integrate into your Explorer or Netscape browser when it is installed, and to self-activate each time a download is performed.
No further configuration or action is required on your part – simply use your browser to access the desired site, click on the download file, and respond to the self-explanatory DAP dialogs that appear.
Advanced options enable you to tailor the operation and responses of the application to your needs. You can choose to trigger specific responses such as messages, queue update, closing the application, and disconnecting after the download is completed or is not available.
DAP is fully integrated into the browser, providing the best possible performance from ANY Internet connection, broadband and narrowband (cable, DSL / ADSL, T1, dial-up etc.).
DAP will allow you to benefit from a faster and more reliable download experience, optimize your download performance, and help you to recover interrupted downloads. DAP is available in two versions: a Free version (ads supported) and a Premium version (with a richer set of features and no ads.).