Home » Free Software Download
Download Panda Internet Security for Netbooks 2011 with 90-day trial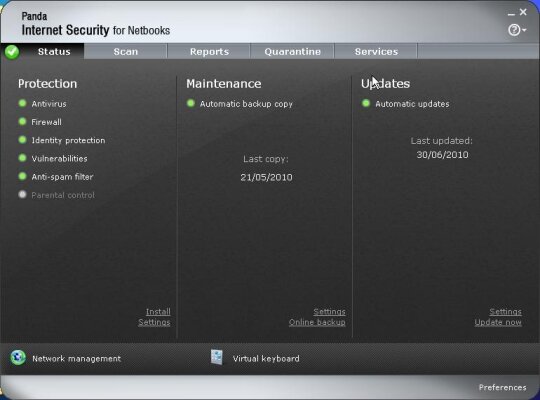 Panda Internet Security for Netbooks is a professional, powerful and advanced suite designed to enable you make the most of your netbook for any offline or online activity. It protects you from viruses, hackers, online fraud, identity theft and all other known and unknown threats. Also, it keeps your inbox spam-free, and allows you to surf the Web privately and securely with the new Panda Safe Browser.
Its improved protection against spyware, phishing, rootkits and banking Trojans lets you surf the Web with complete peace of mind, thanks to the new Web Filter and intelligent updates. With the Parental Control, your children can browse the Internet safely. You will also enjoy local and online backup as well as the possibility to access your PC remotely. It's easy to install, extremely light on resource consumption and has been tested on the most common netbook configurations. Enjoy better detection power thanks to Collective Intelligence and Panda's new technologies.
Panda Internet Security for Netbooks' Home Network Manager lets you check the status of your home computers. It includes Panda USB Vaccine to protect your PC and USB drives from infections and a multimedia/gaming mode that lets you play games without interruptions. You will receive daily updates that will ensure you stay protected from all new threats worldwide.
Here are some key features of "Panda Internet Security for Netbooks":
· Antivirus
· Firewall & Identity Protect
· Anti-Spam & Parental Control
· Multimedia/Gaming Mode
· Home Network Manager
· Safe Browser (Sandboxing)
How to Activate 90-day trial:
Click on the Help icon present to the top right corner of your Panda GUI
Click on "Activate the product"
Enter your valid email address, then click on "Next"
If you are an existing Panda Client enter your client number otherwise select "No", then select your country and click "Next"
Your Panda activation process is complete. Enjoy 3 months free subscription !