Home » Free Software Download
Easy to upload Facebook photos from Desktop with Bloom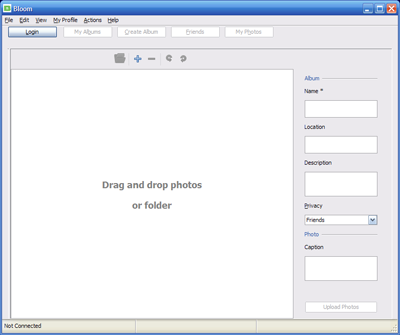 Bloom for Windows – Bloom for Mac OS X – Bloom for Linux
Bloom is a multi platform desktop app that let you upload your photos easily and efficiently to Facebook, download albums and view your friends' photos.
You can upload photos to a new or an existing album, you can tag them and you can view your friends photos.
Version 2.0 improves the Login process and ability to add captions in the large image view mode. More on that here
Version 1.9 is a bug fix release and brings UI improvements.
.Upload photos to Facebook which includes tagging people: (more than 60 photos supported and privacy)
.Download albums from Facebook
.View your friends photos
.Save individual photos
.Support for uploads behind a Proxy server
.Windows/Mac/Linux/Solaris compatible