Home » Free Software Download
Ferrari Theme For Windows 7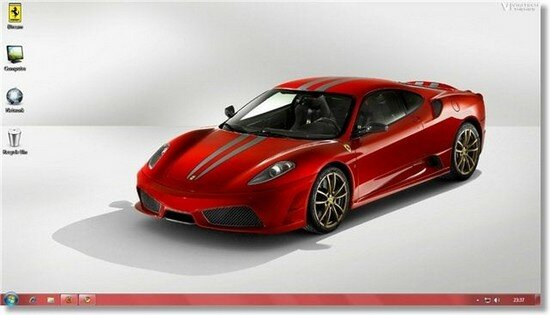 Ferrari just might be the most well-known Car manufaturer in the world. Maybe because it has had an amazing amount of success at the highest level of racing – in the Formula 1 Championships or maybe they create some of the most amazing cars in the world. Whatever the reason might be, everyone has heard about Ferrari and loves their cars.
Ferrari is an Italian sports car manufacturer based in Maranello, Italy. Founded by Enzo Ferrari in 1929 as Scuderia Ferrari, the company sponsored drivers and manufactured race cars before moving into production of street cars. Throughout its history, the company has been noted for its continued participation in racing, especially in Formula One, where it has enjoyed great success.
The Ferrari Windows 7 theme, which includes 30+ HD Ferrari Wallpapers of various Ferrari cars, custom Ferrari Icons and some awesome car sounds.
Thanks VikiTech for a great theme.