Home » Free Software Download
Final Fantasy XIII Theme For Windows 7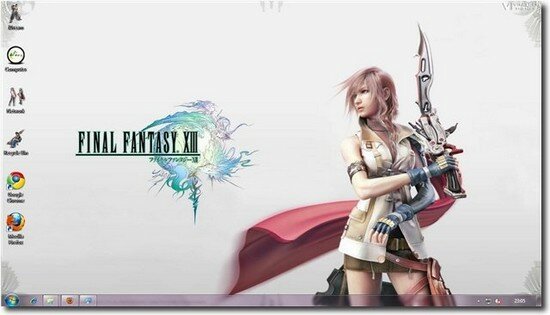 Final Fantasy is the series has been commercially and critically successful; it is Square Enix's best-selling video game franchise, with more than 97 million units sold.
Final Fantasy XIII is the thirteenth installment in the Final Fantasy series, and is the first of the series to be released on the PlayStation 3 and Xbox 360.  The game runs on Crystal Tools (formerly known as White Engine), a proprietary engine built for Square Enix's next-generation games.
This installment of the game introduced a few innovations to the series: a fast-paced combat mechanic, a new system determining which abilities are developed for the characters called "Crystarium", and acustomizable "Paradigm" system to control which abilities are used by the characters. Final Fantasy XIII also includes elements from the previous games, such as summoned monsters, chocobos and airships.
The Final Fantasy XIII Windows 7 Theme consists of 10+ HD Final Fantasy XIII Wallpapers Custom Final Fantasy XIII Icons and select sounds from the game.
Via VikiTech.com