Home » Free Software Download
Firefox 11.0 Alpha 1 Build Released – Download NOW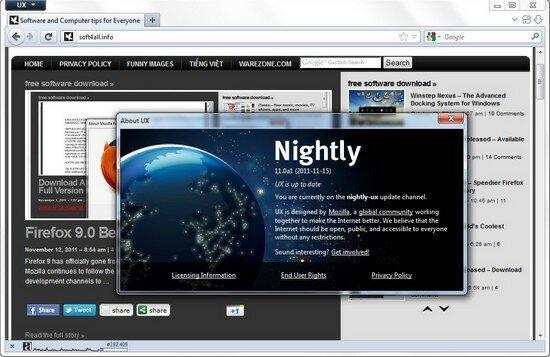 Installer Version (32-bit)



Portable Version (32-bit)



Installer Version (64-bit)



Portable Installer Version (64-bit)


Mozilla Firefox 11.0 Alpha 1 build released by Mozilla and available for download.
Introduced in our last update, Firefox UX provides a parallel Nightly build of the browser that concentrates on developing a new interface for Firefox. Sadly, the likelihood of features previewed here appearing inFirefox 10 has all but disappeared, but if you want a glimpse into what Mozilla hopes will revamp Firefox's look and feel in 2012, take a look at Firefox UX (like Nightly, also available as a dedicated 64-bit build).
When we first previewed Firefox UX, it exhibited a streamlined Launcher Bar, with both forward and home buttons removed by default; only the forward button has been removed in the latest Aurora build. Also visible was a clickable button on the Search bar, a Download Manager widget that's integrated into the main Firefox window, and a New Tab page that showcases recently visited sites as well as the user's bookmarks.
Not much has changed since the last version — a quick visit to Mozilla's presentation of desired interface changes reveals that some major changes are still at the wish list stage. One thing we have noticed, however, is that the History window is incorporated into its own tab in Firefox UX rather than opening a separate pop-up window as it does in all other builds of Firefox.