Home » Free Software Download
Firefox 7 Released – Speedier Firefox 7 Uses Less Memory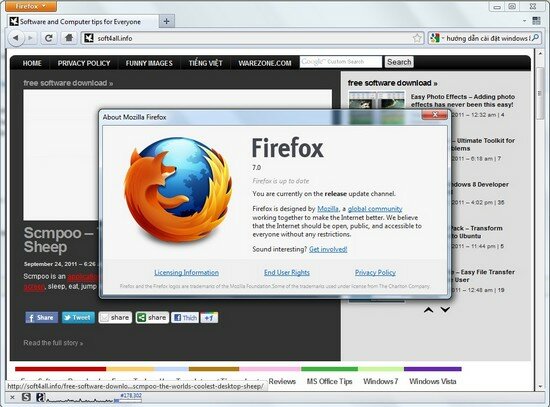 Mozilla has released Firefox 7. Thanks to the faster release cycle, Firefox 7 comes just six weeks after Firefox 6 and brings some significant speed boosts that make it well worth the upgrade.
Firefox 7 sees as much as a 50 percent reduction in memory use, which is great news for those that frequently have a lot of tabs open or leave Firefox running for long periods of time.
The new release also addresses my biggest complaint: startup time. Firefox has taken longer to start running than any competing browser for years. Mozilla claims that not only has startup speed improved, but also tab opening, menus and buttons on websites. It also claims that "Heavy Internet users will enjoy enhanced performance when lots of tabs are open and during long Web browsing sessions that last hours or even days."
Firefox 7 also brings speed to some HTML5 content by using the computer's graphics hardware to accelerate Canvas, a specification for screen drawing used by Web animations and games such as Angry Birds and Runfield, a sample HTML5 game Mozilla cited in the blog post. Hardware acceleration was first popularized as a browser feature by Microsoft when introducing Internet Explorer 9, which runs Runfield quickly, too, thanks to its hardware acceleration.
Finally, there is one minor interface tweak that astute users may notice: The browser's address bar now dispenses with the "http://" when displaying webpage URLs. It's yet one more instance of Firefox emulating Google's Chrome browser, which has behaved this way for over a year.
Following are the changes in this new version:
Drastically improved memory handling for certain use cases
Added a new rendering backend to speed up Canvas operations on Windows systems
Bookmark and password changes now sync almost instantly when using Firefox Sync
The 'http://' URL prefix is now hidden by default
Added support for text-overflow: ellipsis
Added support for the Web Timing specification
Enhanced support for MathML
The WebSocket protocol has been updated from version 7 to version 8
Added an opt-in system for users to send performance data back to Mozilla to improve future versions of Firefox
Fixed several stability issues
Fixed several security issues