Home » Free Software Download
Freez Screen Video Capture – Recording Tool To Record Screen Activities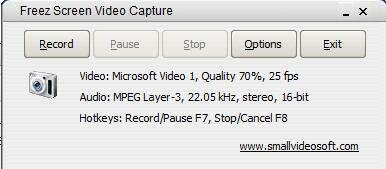 Click here to Download and Donate $0.001 for the website (Firefox only)
Freez Screen Video Capture was designed to be a screen-capture & screen-recording tool to record screen activities and sounds into standard AVI video files.
You can record any part of the screen's activities and the cursor's movements, using a microphone to narrate your screen recordings.
You can choose the output video's compressor (such as Microsoft Video 1, MPEG-4, DivX…), quality, framerate, audio format (such as PCM, ADPCM, MP3, OGG…), and volumn. You can also start, pause, and stop screen recording with hotkeys.
Use Freez Screen Video Capture to create screen demos, training videos, animated tutorials, animated presentations etc. Enjoy it!
Here are some key features of "Freez Screen Video Capture":
· Start, pause, stop screen recording with user-defined hotkeys.
· Record screen activities into Standard or Compressed AVI video files.
· Record any region of the screen.
· Record Screen in any screen color depth.
· Supports sound recording from microphone, videotape, Internet, etc.
· Select the video encoder for your screen recording output AVI file.
· Adjustable screen capture framerate, output AVI video quality.
· Set the sound recording format and compressed audio format.
· Can record Actual Cursor on the screen.
· User-friendly interface, easy to use.
· Free to use and register.