Home » Free Software Download
[GIVE AWAY] – Use Norton Antivirus 2012 Free for 6 months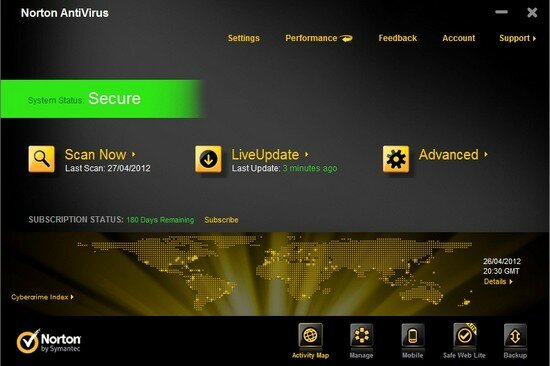 Download Norton Antivirus Free for 6 months


Couple of days back, social networking giant Facebook partnered with top security company Symantec to launch the Antivirus Marketplace. According to Facebook, the main motive behind this move is to improve the security of Facebook users. The Antivirus Marketplace offer users with full version subscription of antivirus programs. However, the full version subscription is limited to six months.
Besides that, this move also improves Facebook's own URL blacklisting system. Facebook's blacklisting system is known to block spam and malicious URLs. Now the system is going to be further enhanced by incorporating malicious URL databases from the aforementioned security companies.
As the Internet continues to evolve, cybercriminals are getting more creative in ways to target your computer with the very latest viruses and spyware.
Norton AntiVirus 2012 provides our most powerful virus, and spyware protection so you can do more without disruption.
Norton AntiVirus offers:
· Ranked #1 in performance
· Industry-leading protection
· Easier to use Control Center and features.
· Award-winning speed, performance and protection just got better.
Norton Protection System includes 4 layers of rock-solid protection designed to proactively protect against the very latest threats – so you can do more on your PC without disruptions.
Insight Technology protects you from download dangers no matter which browser, instant messenger or file sharing program you use.
Customizable Control Center gives you the option to choose your preference between a simplified screen or the traditional detailed view.
Bandwidth Management limits Norton's processes and updates when you have limited bandwidth or monthly downloads.
Download Insight tells you how stable a download is before you put your computer at risk for crashes or other bad things to happen.
Norton Recovery Tools can be of use for removing threats which are deeply buried within the operating system.