Home » Free Software Download
Giveaway – Download WashAndGo Full Version for Free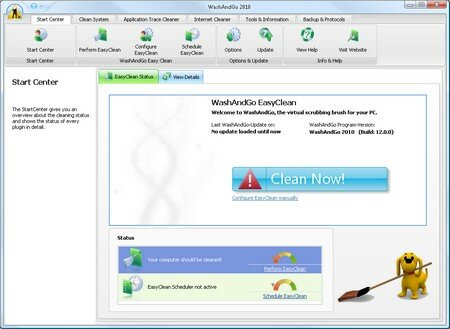 Keep your hard drives spick and span with WashAndGo. WashAndGo is an easy to use application that will provide an easy means of clearing your internet cache, temp folder, recent documents, errant uninstall entries and much more.
You can also use it to scan your drives for 0-byte files and unneeded file types that do little more than waste your valuable disk space.
WashAndGo includes several file types that are preconfigured as space-wasters, but you can easily edit this list as you see fit.
You can also build a list of specific files that you want to omit from the scans. The lightning-fast scan results in a list of files you can browse and edit, or simply remove with a single mouse click.
It enables you to clean up your whole system, so giving you back valuable disk space within seconds! – Get a clean, lean and mean System.
Here are some key features of "WashAndGo 2010″:
· Deletes unnecessary garbage files
· Deletes old log and dump files
· Deletes content of temp folders
· Deletes prefetch files and unnecessary setup cache files
· Deletes unused backup files of service pack installations
· Deletes content of own temp folders
· Dozens of additional cleaning gadgets
· Corrects defective shortcuts
· Corrects windows Registry errors
· Corrects orphaned entries of your Recent-Files folder
· Corrects wrong uninstall entries in Windows
· Emptying your browser cache
· Removal of so called Internet Cookies
· Cleaning of your web history
· Removal of Microsoft traces
· Cleaning of over 100 different Windows applications
· In case of any problems, WashAndGo creates a security backup. This allows you to undo all changes at any time for a period of 14 days.
· WashAndGo will only suggest to remove a file if it can be almost 100% sure that this entry is unnecessary and may be removed.