Home » Free Software Download
Internet Explorer 9 Platform Preview 6 – An Early Look at The Internet Explorer 9 Platform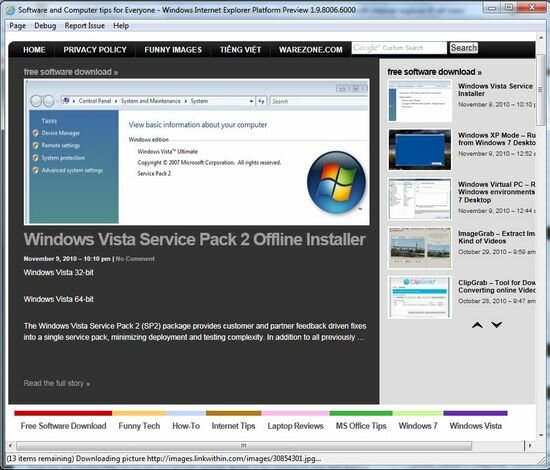 The Platform Preview is an early look at the Internet Explorer 9 platform so some features are incomplete, some may change, and some may be added.
- Speed Demos
Take full advantage of your PC with GPUpowered graphics and compiled JavaScript.
- HTML5 Demos
Deliver interoperability through webstandards including HTML5 and ES5.
- Graphics Demos
Create next-generation experiences withHTML5 and CSS3 graphical capabilities.
- Browser Demos
Your sites shine through a site centricbrowsing experience and pinned sites.
The improvements to Internet Explorer are as much about what you don't see as what you do see. Internet Explorer 9 has a streamlined design, fewer dialog boxes to click through, more intuitive navigation, and many new features that speed up your web browsing experience.
Features like Pinned Sites let you pin your favorite website directly to the taskbar for one-click access. Other features, like hardware acceleration, deliver an all-around faster browsing experience.
With IE 9, webpages perform and feel more like the programs you use every day on your computer.