Home » Free Software Download
JetStart – Quick Launch of Your Favorite Applications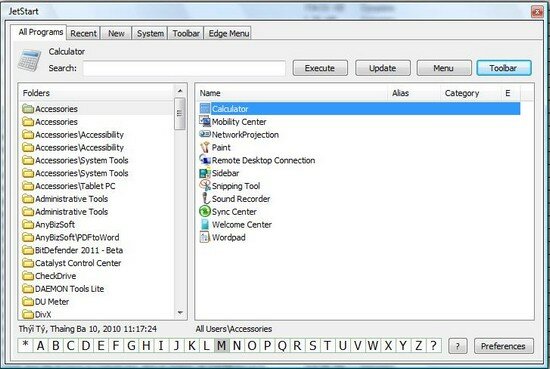 JetStart is a tool that helps you launch applications or open documents with just few mouse clicks or key press!
To quickly run any application using keyboard, you'll need to activate JetStart using the Win key, then type few starting letters or its name, typically two or three, and press the Enter key. Also you can execute system commands (e.g. Restart or Shutdown) or
use it as a command line replacement.
If you have lot of programs installed and can't recall name of the program you need, you may organize them into categories to easily find them later.
JetStart gives you quick menu-like access to the all programs or documents placed in categories. This menu will popup when you move mouse to the screen edge.
JetStart Toolbar allows you to quckly access your favorite Windows applications.
• Organize shortcuts with drag and drop
• Launch multiple programs at once
• Activated by hot-key or from the tray icon
• Drag files from Toolbar to Desktop, etc
• Convenient keyboard interface
• Docking to the screen edges
• Freely resizeable with mouse