Home » Free Software Download
Make Photos more Funnier with Funny Photo Maker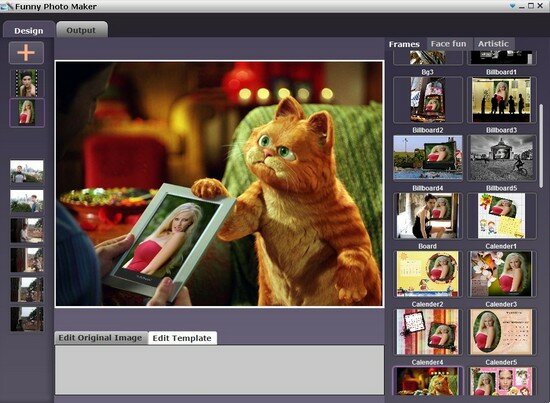 Funny Photo Maker is a handy and reliable application designed to personalize your photos with unique effects. Funny Photo Maker lets you enjoy photo editing. Helps you export photos in image file and gif animation. Easily turns your photos into artistic and interesting masterpiece!
Confused on the countless buttons in PhotoShop? Now you have an easier solution! Funny Photo Maker has a user-friendly interface that enables you to fast comprehend and use the powerful program. The whole editing process is simplified into 2 steps: Design & Output. No complicated graphic editing knowledge required. You can add frames and plenty of amazing effects then get your photo edited within seconds. With Funny Photo Maker, photo editing is just like a piece of cake!
Funny Photo Maker is a 3-in-one photo editor that includes three kinds of photo editing functions: Artistic, Frame and Face fun. There are many custom options under each functions helping you create unique photos for sharing. You can design photo as you like by adding gorgeous photos effects, delicate photo frames and funny background. Funny Photo Maker brings life to your photos and lets your photo editing become an aesthetic and interesting creation process.
Here are some key features of "Funny Photo Maker":
· Extremely easy to use;
· Includes gorgeous frames facefun & effects;
· Provides with full customization settings;
· Supports edting BMP, JPG, PNG;
· Exports high quality BMP, JPG, PNG & GIF.