Home » Free Software Download
Mitini – Voice Assistant for Windows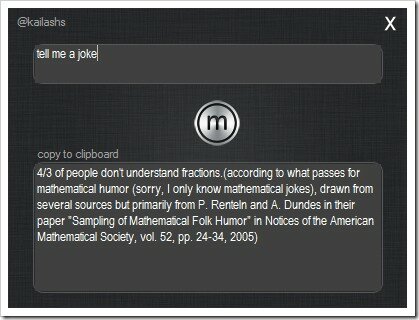 As most of us know, Siri is Apple's latest brainchild, a personal (virtual) assistant that acts as a knowledge navigator, and provides information regarding voice queries made by the user.
Unfortunately, since long, there has been no application for Windows users that can provide Siri like functionality.
Recently, Mitini was launched, which is a portable,Siri-like application for Windows users. This third-party application uses Microsoft's speech engine to recognize your voice and to reply to your queries.
To use Mitini, click the "m" icon and speak in your microphone. This will enable Mitini to detect your query and to fetch relevant information about it.
Even though the software is still in early stages of development, it works pretty well in some areas.