Home » Free Software Download
Put your portable apps on a diet with AppCompactor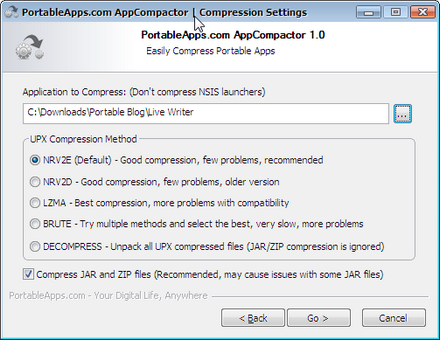 PortableApps.com AppCompactor allows you to easily compress applications to decrease size on disk and increase performance when running from slow media like flash drives. It's packaged as a portable app, so you can work with your apps anywhere. It's intended primarily for developers, but advanced users will also find it useful.
It is, of course, portable, open source, and designed to integrate with the PortableApps suite. AppCompactor fuses UPX (for exe, dll, and other binary files) and 7zip (for jar and zip files) to compress portable applications. Not surprisingly, it's been used to package the other programs in the suite.
Using the default options, AppCompactor reduced my CCleaner portable folder to about 760k (about 40% its original size) and pummeled my ArtWeaver to trifling 3.1mb – a 10mb reduction. Both programs launched much more quickly from my Kingston Data Traveler, and they functioned exactly as they had before: no errors, no headaches.
AppCompactor can't work it's magic on everything, though. It didn't manage to reduce a single byte with FastStone Capture or Spybot, and it only reduced AdAware SE by 60kb. For curiosity's sake, I also tried portable version of Photoshop CS3 and Office 2003, and had little success with them either, saving only about 1mb on each.
Since it utilizes UPX, apps that were previously packaged using that type of compression (like the Gimp or Firefox) probably won't see an appreciable reduction.
Still, when it does work, it's fantastic. It's an incredibly simple way to boost launch times for some of your portable apps and provide extra megs of free space on your flash drive. A few megs might not seem like much on a 16 or 32gb drive, but space is space – and more is always welcome in my book.
Features
. PortableApps.com AppCompactor allows you to easily compress application to decrease size on disk and increase performance when running from a slow media (like flash drives).
. It packages UPX and 7-Zip within an easy to use wizard allowing you to easily compress an app's EXEs, DLLs and other binaries using UPX in either NRV2E, NRV2D, LZMA or BRUTE mode as well as recompressing ZIP and JAR files to their maximum level using 7-Zip.
. It also has an option to DECOMPRESS an app's binary files that were previously compressed with UPX. Just select the directory and all the DLL, EXE, ZIP, JAR, IRC, PYD and BIN files within that directory will be compressed.
. Depending on the files, the PortableApps.com AppCompactor can decrease an app's size by 50% or more without affecting functionality.