Home » Free Software Download
ScreenHunter – Capture Your Screen Easily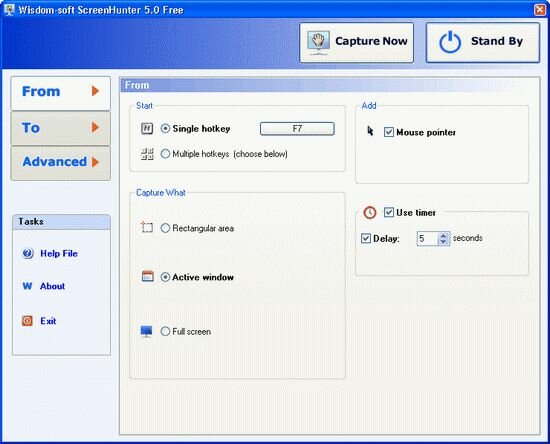 ScreenHunter Free is a completely free screen capture software for you to easily take screenshots.
ScreenHunter can capture a rectangle area, an active window and full screen. It automatically saves captures in BMP, JPEG or GIF file format, so you don't have to stop each time and you can capture as many as you like. It also can save to Clipboard to be copied to other programs, such as Motion Studio and Word.
ScreenHunter has selectable hotkey capture (F1 to F12 and Print Screen), delayed capture, and uses virtually no system resources on standby.
ScreenHunter has no expiry date and can be copied and distributed without permission and free of charge. However, the free version is only supported for the registered users of ScreenHunter Plus or ScreenHunter Pro. Upgrade to ScreenHunter Plus, ScreenHunter Pro and buy licenses online to become a registered user.
Here are some key features of "ScreenHunter Free":
· Capture any part of your desktop, a window or full screen with mouse pointer
· Save captures in BMP, JPEG and GIF file
· Hotkey from F1 to F12 and Print Screen key
· Direct printing
· Rectangle area
· Any window
· Full screen
· Timed capture
· Mouse pointer
· Support Print Screen key
· Zoombox for easy capture
· Automatic naming and save to files.
· Save as good quality JPEG, BMP and GIF
· Clipboard
· Small memory usage
· System tray
· Easy hotkey setup
· No expiration date and free distribution