Home » Free Software Download
Secure Your Browser Traffic with BitDefender TrafficLight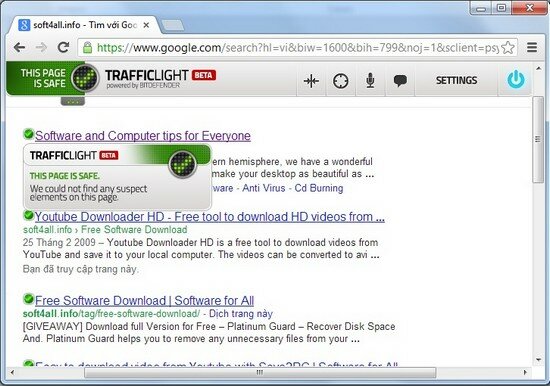 BitDefender TrafficLight is the best way to a completely secure web browsing experience. It intercepts, processes and filters all web traffic, blocking any malicious content before it reaches your browser.
An array of features is available to protect you from all kinds of threats you may encounter while web browsing:
· Ad Filter - blocks those annoying pop-up ads.
· Link Filter - scans links from social networking sites such as Facebook or Twitter.
· Malware Filter - blocks any malware you come in contact with while browsing the Internet.
· Advanced Phishing Filter - prevents you from accessing websites used for phishing attacks.
· Search Results Analyzer - provides advance warning of risky websites within your search results.
· URL Shortening - shrink and check links for viruses and spyware using saf.li.
You can use BitDefender TrafficLight no matter how you choose to surf the web:
· It works and integrates with all major web browsers: Internet Explorer, Mozilla Firefox, Google Chrome, Opera, Safari.
· It filters search results from all major search engines: Google, Bing, Yahoo! Search.
· Users can rely on TrafficLight's functions regardless of the security solution already installed on their computer