Home » Free Software Download
Shutdown Timer – Automatically Turn Off Your Computer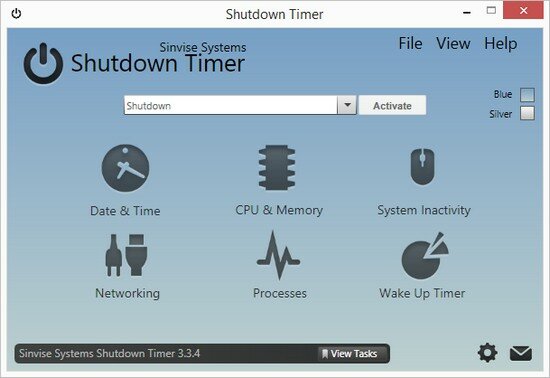 32-bit Version

Shutdown Timer is a small and easy to use program that can help you to schedule Shutdown, Restart, Logoff, Lock, Hibernate and sleep in various ways.
You can do the regular shutdown based on times and dates but you can also shutdown based on CPU and memory usage and also CPU Temperature, so if you're running those hardcore applications or benching your system overnight and don't want it running all night, you can use this to shutdown after a while.
You can also shutdown based on network usage so it will help with those long overnight downloads.
What are the main features of Shutdown Timer?

Ability to:
Shutdown
Restart
Logoff
Lock
Hibernate
Standby
Monitor Standby
Open a file
Open a Web Page
Based on Date & Time
CPU/Memory Utilisation
CPU Temperature
Networking Usage
Process Management
Ability to save your settings for future use
Completely Portable, You can take it on a USB if you want to!
Requirements: