Home » Free Software Download
Smart Installer Pack – Install all needed Software at Once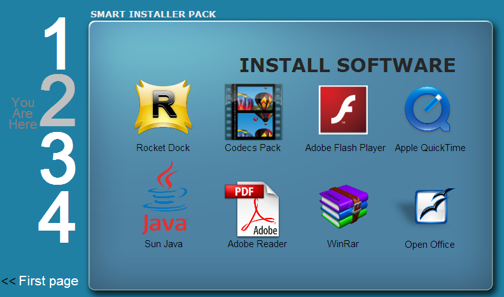 (Use a bit torrent download client such as Utorrent to download)
What Smart Installer Pack actually does is incorporate a handful of software* usually installed on new computers, reinstalled operating systems, etc.
So, SIP was made just to eliminate all the searching around for nothing, waiting, downloading (which can take up a lot of time) and only then installing.
Now, all you have to do is download this Smart Installer Pack and click on the preferred icons – you can choose which software to install (see screen shots).
Features
* Easy, intuitive user interface design
* Contains usual start-up software*
* Greatly improves the time needed to install that software, eliminating some of the unnecessary searching, downloading, etc
* All free
* The installer comes packed in a convenient executable file
* You can choose which software you want to install using suggestive icons
* The application is made as small as possible
* Install fast, fast, faster!
Instructions on how to download
1. First download and install the µTorrent client
2. Use the download links above to download the SIP ".torrent" file
3. Open the .torrent file with the µTorrent client
4. Wait for it to fully download on your computer (have a coffee in the meantime maybe)
5. When the download process is finished open the new file.
6. You'll know what to do next… If you won't, comment here.