Home » Free Software Download
Smideo – Simply generate beautiful videos from your own pictures, videos and sounds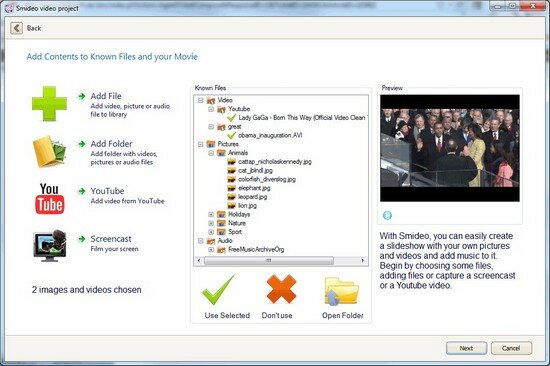 Smideo is the most simple program to turn your holiday photos or family photos and videos to an appealing slideshow-video. Smideo can also include Youtube videos or record parts of your screen. Afterwards you can add your own MP3 music or record speech from your PC to complete your video. And Smideo is completely free.
Smideo – Features
- Turns pictures to videos
Family photos, holiday photos, presentations – Smideo takes your pictures and creates beautiful videos that you can show to your colleagues and friends.
- Can include videos too
Today, cameras don't only make pictures – videos can be filmed too. These can be included in your Smideo video too.
- Use your own music or speech
Smideo makes it easy to add your own MP3 music to the video or use your PCs microphone to record audio.
- Youtube and Screencasts
Smideo can also directly download videos from Youtube or film parts of your screen – a simple way to add intersting content to spice up your video.
- AbEasy
Smideo is easy to use – a helping wizard guides your through a few simple steps that are needed to create your own video.