Home » Free Software Download
Windowpaper XP – Add Wallpapers to Windows XP Folders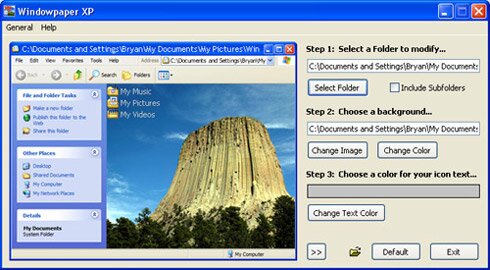 Windowpaper XP lets you customize the background of your folders with wallpapers in the same way, you can customize your desktop.
It allows you to select a custom background image for any folder you want, specify the font color (to make it stick out) and instantly preview the results.
Very easy to use, neat tool for those that like to customize their workspace.
Features
Intuitive 1, 2, 3 Interface – Windowpaper XP is simple to use. Simply select the folder you wish to modify, your background, your text color, and you're set!
Real-time preview window – Watch your changes happen as you make them!
Change Folder Color – Just want a solid background color instead of a picture? You got it! With a simple click, you can change the folder background color to one of sixteen million supported colors.
Batch Folder Customization – Many people have e-mailed about adding batch functionality to the new version. Well, you asked and we listened! Just check the "Include Subfolders" checkbox and you not only modify the selected folder, but all the folders in it!
Change Folder Background Shortcut – Without opening Windowpaper, all you have to do is right click any folder on your hard drive and select "Change Folder Background…"
Minimum System Requirements
Requires Microsoft Windows XP Home or Professional ™ – Other versions of Microsoft Windows are not supported since previous versions already have the capability to modify folder backgrounds.
~5 Megabytes (MB) of Disk Space for Full Install – May be less depending upon your selected installation options.
~6 Megabytes (MB) of Memory – May be more or less depending upon selected Windowpapers (32 MB or more is recommended)