Home » Free Software Download
Windows 8 Upgrade Assistant – Check if Your System is Ready for Windows 8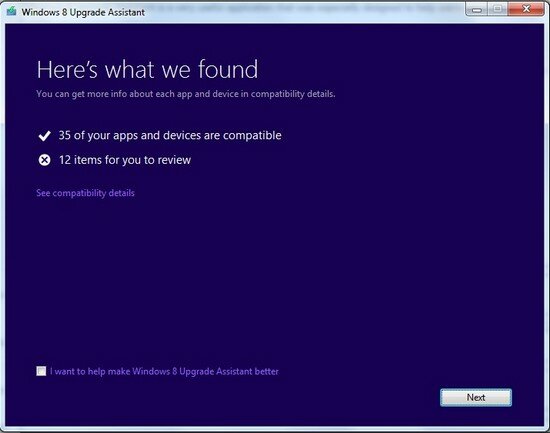 Windows 8 Upgrade Assistant is a very useful application that was especially designed to help users see if their system is ready to accommodate the latest iteration of Windows.
The program scans the PC and verifies is the installed apps and devices are compatible with Windows 8.
Thanks to Windows 8 Upgrade Assistant you can spot software that needs to be reinstalled or certain devices that may need an upgrade to support the new OS.
What does Upgrade Assistant do?
There are four main things that Upgrade Assistant does:
It scans your hardware, apps, and connected devices to see if they'll work with Windows 8. Make sure all the peripheral devices that you need to work with your PC, like printers and monitors, are connected to your PC and turned on before you run Upgrade Assistant. Upgrade Assistant checks your PC hardware to see if it meets the Windows 8 system requirements to install on your PC, including features of the processor such as CPU speed, PAE, NX, and SSE2, as well as RAM size and hard disk capacity. It also checks for compatibility of your currently installed apps and device.
It provides a compatibility report. Windows 8 generally works with the same apps and devices that work with Windows 7, but in some cases, a product might need an update, or you might need to uninstall and reinstall it after you upgrade. The compatibility report lists your apps and devices that will work in Windows 8, those that might not work, and what you can do to get them working again after you upgrade. If some of your apps and devices aren't listed, it might be because we don't have compatibility info for that product yet. For more info on specific products, check the Windows Compatibility Center, or contact the product manufacturer. You can save or print the compatibility report to use later. Unless you choose the option to "keep nothing" during the upgrade, you'll be able to find the report on your desktop after the upgrade. For more info, see Get your apps and devices working in Windows 8.
It checks your PC for support of certain Windows 8 features . Specifically: the Windows Store, snap, secure boot, and multitouch. If your PC doesn't support one or more of these features you'll see a warning. You'll still be able to install Windows 8, but specific features won't be available to you.
It provides the option to buy, download, and install Windows 8. If your PC is ready to go, Upgrade Assistant provides a recommendation on which edition to buy, and walks you through the steps to upgrade.