Home » Funny Tech
Booth Babes of E3 2011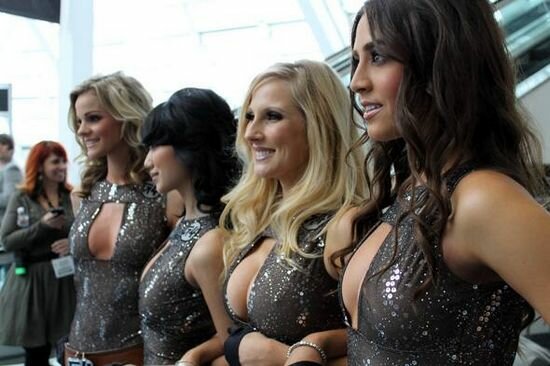 The Electronic Entertainment Expo 2011, commonly known as E3 2011, was the 15th Electronic Entertainment Expo held. E3 is an annual trade show for the computer and video games industry presented by the Entertainment Software Association (ESA). The event took place June 7–9, 2011 at the Los Angeles Convention Center. E3 is used by many video game developers to present their upcoming games and game-related hardware. E3 2011 was broadcast on the G4 channel.
The main highlights of the 2011 show included a demonstration of Sony's newest handheld game console, the PlayStation Vita and the official introduction of Nintendo's newest home console, theWii U.
If you thought a prerequisite for manning a booth at an electronics expo was a passing knowledge of the electronics and games you were promoting, you were wrong.
In the above video Chloe Dykstra puts a set of "booth babes" from the E3 2011 conference to the test by asking them simple questions about video games both new and old. If you're a gaming fan and you can watch this video without laughing out loud you've got an iron will (or you're shaking your head in disbelief that someone could work a gaming convention and not know the answers to these questions). We won't lie, we were shaking our head when the one model admitted that she'd worked at GameStop for a year and still didn't know any of the answers.
What questions would you put on list? How about "Finish this sentence: 'Your Princess is in another…'", "Dimension?".
The Master continues his quest to find the top booth spokes women of all time.
In this video you will see…
How to wear a gauntlet
How to challenge the master
How to represent products…